If you're like me, you probably set aside a significant portion of your website's budget for promotional activities. After all, the 80-20 rule says that 80 percent of our time and effort should be spent on promoting our content (hint: this is where YouTube WordPress plugins can help).
Let's say you spent 50 dollars on Facebook Ads to get people to visit your landing page or blog post. But somehow, the bounce rates are just too high! People seem leave even before they are halfway through the page!
We're not alone. In a world where digital content is produced at an explosive pace, it is difficult to get people's attention. But there's one holy grail that seem to get the attention of today's folks – and that's video content.
With the right video content, your bounce rate decreases and people tend to spend more time on your site watching the video and eventually increase your conversions. When we include videos in our blog content, our readers are more likely to stick through and watch the video. If the video solves their problem, they are much more inclined to share it. With that in mind, let's take a look at some of the best YouTube WordPress plugins.
Disclaimer: WPExplorer is an affiliate for one or more products listed below. If you click a link and complete a purchase we could make a commission.
1. YouTube Embed Plus (Freemium)
YouTube Embed Plus is one of the most popular YouTube plugins with over 200,000+ active installations. With this plugin, you can create YouTube channel or playlist galleries with multiple customization options. Add auto play, automatically embed live streams, customize video start settings, create functional accessibility evaluation (FAE) ready content and more.
Feature Highlights:
Create responsive YouTube channel and playlist galleries
Add channel subscription button to the ones above gallery thumbnails
Localization support
Pro version supports lazy loading of YouTube videos
2. YouTube Widget by Tagembed
YouTube Widget WordPress Plugin is another amazing WordPress plugin that helps you to embed YouTube videos on WordPress website. The coding-free plugin is easy to operate. And by following some simple and manageable steps, you can easily add Youtube videos to your WordPress website. Moreover, you can also excess some of the features from the plugin that eventually helps you extract maximum benefits from the platform.
Feature Highlights:
Customizable widget enabling you to make desired modifications
Card curve modifications
Filter & Moderations
Responsive widget
Custom CSS
Card Style customization
Custom CTA
Custom Post
3. Essential Grid (Premium)
If you want to integrate a grid of your YouTube videos one of the best YouTube WordPress plugins for the job that the Essential Grid. This all-in-one grid building solution for your WordPress website makes it easy to integrate YouTube videos on any post or page as a styled grid (along with other content formats such as blog, pricing, portfolio, sliders, etc). The plugin also includes a live skin editor so you can quickly edit the look of your YouTube media grid composition, layout, colors and more.
Feature Highlights:
Supports Youtube, Vimeo, self-hosted video, iFrames, images, posts, pages, custom post types, WooCommerce, and galleries
Visual skin editor
Built-in animation types and pre-loaders
Responsive & mobile optimized
Premium support
4. Visual Composer YouTube Channel (Premium)
With this plugin it's easy to add your Youtube Channel into any post or page using the popular WPBakery page builder. The Visual Composer YouTube Channel with Carousel adds new modules for you to insert a customizable channel feel. Add a recent videos grid, create a list of your top content or even add a video carousel to make it easier for visitors to your site to browse your content.
Feature Highlights:
WPBakery Visual Page Builder Extension
Grid or carousel layouts
7 Pre-defined styles
Fully customizable styling
Masonry & fit row settings
132 Element animations
Infinite scroll, load more or traditional pagination
Compatible with the Total WordPress Theme
5. YouTube Showcase – Video Gallery
YouTube Showcase enables you to build responsive gallery pages filled with YouTube videos. You can build a video gallery page where the subsequent videos are shown below the original video with pagination. You can also build a video grid gallery where the videos are shown in a four-column grid layout. This plugin is great for showcasing multiple related videos such as an online course, how-to video series and product demo and application videos.
Feature Highlights:
Ability to build two separate video galleries – basic video gallery and video grid gallery
Set custom the thumbnail aspect ratio of videos – choose either 16:9 or 4:3
Sidebar widgets to showcase recent and featured videos
Pagination option available for longer video series
6. Yottie YouTube WordPress Gallery (Premium)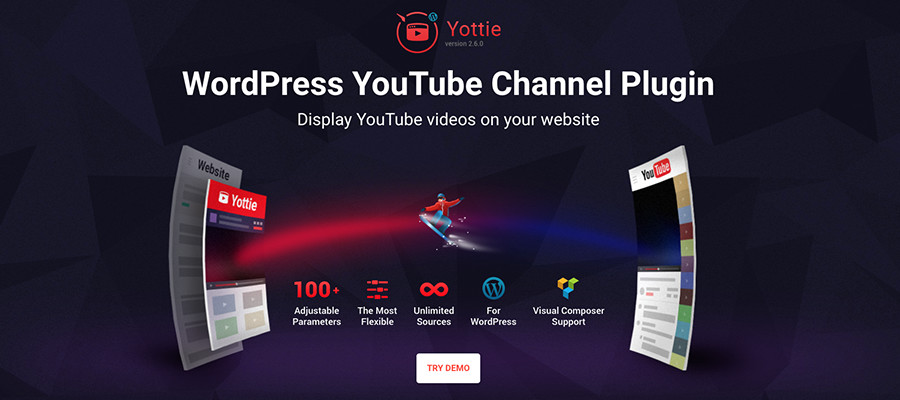 Yottie is a premium plugin to integrate your YouTube channel with your WordPress blog. With more than 100+ adjustable parameters for setting up your youTube feed, multiple pre-styled color schemes and 16 languages currently supported the Yottie plugin is a great fit for just about any vlogger. Plus it's compatible with the popular Visual Composer page builder so you can easily design a custom page layout with your video feed included.
Feature Highlights:
Supports YouTube, Vimeo and Dailymotion
Build highly customizable video galleries
Innovative add-ons such as playing private Vimeo videos
Choose from self-hosted or cloud-hosted solution. Latter one supports multiple platforms and includes access to all add-ons and features
7. Flow Flow Social Stream (Premium)
Flow-Flow is one of the top social stream plugins for WordPress, and best of all it supports multiple video sources – Youtube, Vimeo and even Instagram. This plugin is a quick and easy way to add you recent videos to ant post or page. Just sync your account then add your YouTube channel stream with the included shortcodes (or Visual Composer page builder element). That's it! All of your new videos will be automatically added to your WordPress site when you post them.
Feature Highlights:
Integrate videos from YouTube, Vimeo and Instagram
Supports all major social networks (YouTube, Facebook, Twitter, etc)
Compatible with the Visual Composer page builder plugin
CSS3 Transformations and lightbox galleries
Responsive design
Translation ready
8. Youtube Video Gallery for Visual Composer (Premium)
The YouTube Video Gallery plugin was specifically created as an add-on for hte WPBakery Visual Composer page builder (which means it' bea a great compliment to any Visual Composer compatible theme, like Total). With this plugin you can quickly and easily insert individual videos, channel feeds or even your playlists. There are built-in options for columns, pagination, grid style, lists, carousels, image cropping, likes counters and much more.
Feature Highlights:
Add-on for the WPBakery Visual Composer
Built-in advertising options
Responsive and retina ready
Grid and pagination customization options
9. Hide YouTube Related Videos
In most cases, we want our visitors to view the product video and then scroll down to read the actual content – which could be the blog post, or the landing page copy. Correct?
However in WordPress, YouTube videos are embedded using the default oEmbed solution. In which case, YouTube ends up showing related videos after the original video finishes playing. This tends to distract the users by showing them funny cat videos, right after they've seen your Long Tail SEO product pitch video. (I'm speaking from personal experience haha!)
We really don't want that now, do we? Hide YouTube Related Videos stops that from happening by preventing YouTube oEmbed from showing related videos.
Feature Highlights:
Prevents related YouTube videos from showing up after original video is played
Note: Sometimes, when you upgrade the plugin it might not work due to some caching issue. A simple fix is to manually deactivate and re-activate the plugin. This clears the cache, and it starts working again.
10. YouTube Embed (Freemium)
YouTube Embed WordPress brings you tons of enhancements and customization options when embedding YouTube videos to WordPress.
For starters, you can embed videos in post, pages and custom post types. You can also get creative and embed YouTube videos in widgetized areas such the site header, custom sidebars and footers (although I cannot think of a website that would use a video in its footer! Can you?)
The premium version of the plugin includes features such as hiding related related videos from showing up at the end of the video, setting options for individual videos, etc.
Feature Highlights
Display videos in posts, pages, custom post types and widgetized areas
Configure default options such as player dimensions, fullscreen, annotation and caption options
Customize player progress bar colour for brand consistency
11. Youtube Widget Responsive
So far in this post of the best YouTube WordPress plugins we've been sharing plugins that enable you to embed YouTube videos in your WordPress site. If you're looking to display YouTube channel or videos in your sidebar only then this free YouTube Widget is the plugin for you.
The plugin adds a custom YouTube widget to your site so you can easily insert your videos into your sidebars or footer in just a couple clicks. Plus there's a simple shortcode you can use to insert your videos into posts or pages if you so choose.
Feature Highlights:
Widgets and shortcode insertion options
Control bar theme and progress bar color settings
Enable video tracking for analytics
Add custom descriptions
12. Youtube Videos To WordPress Posts (Premium)
Are you primarily a YouTuber, but want to promo your videos on your own blog? No problem! The YouTube Videos to WordPress Posts plugin will automatically import your latest YouTube videos to your WordPress site as posts. Import videos according to user, channel, id or custom query. You have the option to either bulk import, paginate or schedule to keep your WordPress posts up to date with your channel.
Feature Highlights:
Automatically create WordPress posts from your YouTube videos
Bulk import or schedule
Supports all WordPress video embeds (YT, Jw, etc)
Check for broken or removed videos
Supports video rich snippets
13. YourChannel: YouTube Channel
YourChannel will help you display a customized version of a YouTube channel in WordPress. To get started, you'll need to obtain your copy of YouTube API key, username and channel ID and save them in the plugin's settings. Then, you can configure multiple configuration settings such as using a lightbox video player or enabling/disabling features such as displaying banner image, playlists, total videos, views, and many more.
Feature Highlights:
Ability to selectively display multiple elements such as channel info, subscriber/video count, playlists, channel banner image, etc.
Visual builder that works with a shortcode
Display video thumbnails in seven different styles, all of which are responsive
What makes a good YouTube WordPress plugins? Well, to answer that question, you would have to ask "What is it that I need?" Different people have different requirements from a particular type of product. That's why there are more than 10+ YouTube WordPress plugins actively developed under the "YouTube for WordPress" category.
Hopefully you've found our list of the 10+ best YouTube WordPress plugins helpful. Just take a minute to choose the right plugin for you. I would strongly recommend not choosing a plugin with ten features, out of which you'll be using only one. Write down what is it that you're trying to achieve with the plugin. Once you've settled on your requirements, go through the list and select a plugin that meets your criteria.
Did we miss out on an important plugin? Are you a developer and would like to see your plugin up on this list? Let us know in the comments!